General Electric 8DW58
<![if !vml]>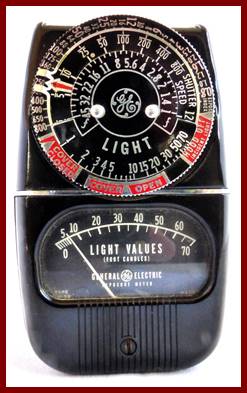 <![endif]>
General Electric, made in USA 1946
Selenium belichtingsmeter zonder batterij. De meter kan op 3 manieren gebruikt worden: met deksel gesloten, met deksel open en met het bovendeel er helemaal af (zie foto hieronder), te gebruiken bij respectievelijk veel, gewoon en weinig licht. De draaischijf geeft voor alle drie de situaties de waarden. De waarde van lichtmeting kan overgebracht worden naar die schijf waarna alle mogelijke combinaties van sluitertijd en diafragma bij ingestelde filmgevoeligheid kunnen worden afgelezen. Filmgevoeligheid instelbaar van 1 tot 800 ASA.  Aan de onderkant is een schroef voor nul instelling. De meter werkt nog steeds naar behoren. Compleet met bruin leren  tasje.

Gekregen van Arij Bartels in maart 2016.

This is an selenium electrical exposure meter without a battery. De meter can be used in 3 different ways: with cover closed, with cover open and with hood off (see photo below), to be used at good, average and bad light conditions respectively. The rotating scale gives values for all three situations. The measured light value found can be transferred to that scale after which all possible combinations of shutter speed and diaphragm at set film speed can be seen. Film speed (emulsion speed) can be set between 1 and 800 ASA. At the bottom there is a screw for zero adjustment. The meter still operates properly. Including brown leather case.

A gift of Arij Bartels in March 2016.
<![if !vml]>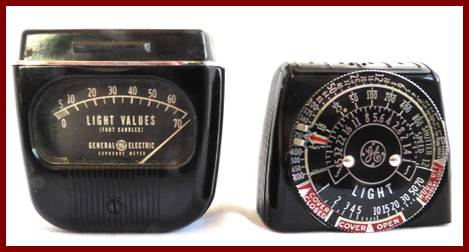 <![endif]>