Philips Flash P26
<![if !vml]>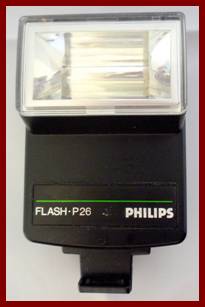 <![endif]>
Philips, made in Japan
ca 1979
Eenvoudige elektronenflitser. Diafragmatabel voor verschillende afstanden bij verschillende filmgevoeligheden op achterzijde. Richtgetal 26 bij 21 Din/100 Asa. Oplaadtijd 7 sec. Middencontact en kabelaansluiting. Voeding door 4 penlites van 1,5 volt. Compleet met gebruiksaanwijzing in het Nederlands en doosje.

Gekregen van Wil Heldoorn in mei 2011

Basic electronic flash unit. Aperture table for various distances at different film sensitivities at the back. Guide number 26 for 21 Din/100 Asa. Recycling time 7 sec. Accessory shoe contact and plug for flash cord. Power supply from 4 penlites of 1,5 volt. Instruction leaflet in Dutch and carbon box are included.


A gift from Wil Heldoorn in May 2011.