Louis van Neck model B
<![if !vml]>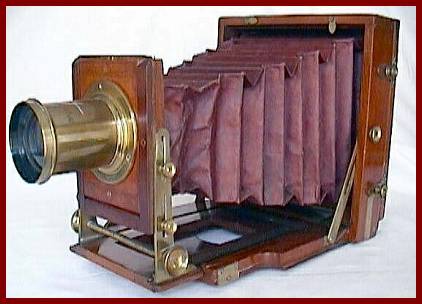 <![endif]>
Appareils Fotografiques
Louis van Neck - Klapdorp 10 - Anvers, 1888
Dit is een houten inklapbare platencamera met uitwisselbare achterwand, plaatformaat 12x 16 cm, voorzien van een achterwand met matglas waarop het beeld van de opnamelens ondersteboven wordt geprojecteerd. Matglashouder kan naar beneden gkanteld worden voor plaatsing plaatcassette en hoeft dus niet verwijderd te worden. Achterwand kan ook via losdraaien van 4 schroeven nog wat verder naar achteren worden geplaatst. Er is geen sluiter aangbracht; de belichtingstijd wordt geregeld door de dop van de lens af te nemen (dop niet meer aanwezig) en terug te plaatsen of door een losse sluiter voor het objectief te plaatsen. Afstandsinstelling variabel via verplaatsing van opnamegedeelte over geleiding. Scherpstelling controleerbaar op matglas. Verder is objectief naar boven en beneden instelbaar. Geen diafragma. Uitschroefbaar objectief Aplanat 19 Lin. van Steinheil in München. In het koperen objectiefhuis zit een gleuf waarin een los insteekdiafragma kan worden geplaatst. Bovenop de camera staat naast het plaatje van Louis van Neck ook nog vermeld "The 1888 Patent Instantograph." Dit is een patent van de Engelse firma Lancaster betreffende de bouwwijze van de camera, in 1882 uitgebracht en in 1886 en 1888 gewijzigd.

De camera heb ik gekocht op een fotografica beurs in Houten in november 1996.

This is a wooden folding plate camera with interchangeable plate holder, size 12 x 16 cm. Supplied with a plate holder with frosted glass, on which the image of the exposure lens is projected upside down. The frosted glass holder can be rotated downward for loading of a photographic plate and needs therefore not to be removed. The back plate can be moved somewhat further backwards by loosening 4 screws. There is no standard shutter provided; the exposure time is controlled by putting the lens cap off and on (lens cap not present) or by slipping a loose shutter on the lensfront. Variable focusing by moving the lens assembly over a rail on the ground plate. Focus can be controlled looking at the image on the frosted glass. The lens assembly can also be shifted up en down. There is no diaphragm installed. Removable lens Aplanat 19 Lin. from Steinheil in München. In the brass lens tube a slit is provided in which a loose socalled put-in diaphragm can be placed. On top of the camera next to a the nameplate of Louis van Neck is also mentioned "The 1888 Patent Instantograph". This relates to a patent of the English firm Lancaster regarding the construction of the camera body, introduced in 1882 and changed in 1886 and 1888. Anvers is the French name for Antwerp in Belgium.

This camera was bought at a "Fotografica" fair in Houten in november 1996.
<![if !vml]>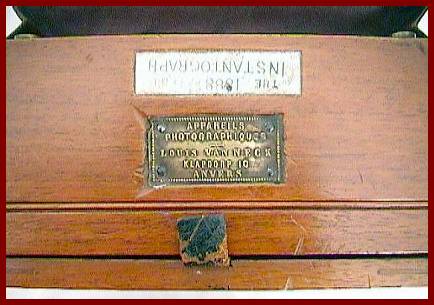 <![endif]>