Louis van Neck model A
<![if !vml]>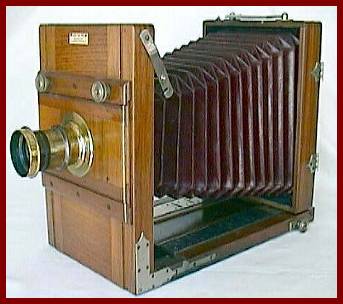 <![endif]>
Louis van Neck, constructeur brevete
Klapdorp - Anvers, ca 1890
Dit is een houten inklapbare platencamera met uitwisselbare achterwand, plaatformaat 12x 18 cm, voorzien van een achterwand met matglas waarop het beeld van de opnamelens ondersteboven wordt geprojecteerd. Matglashouder kan naar buiten gedraaid worden voor plaatsing plaatcassette en hoeft dus niet verwijderd te worden. Er is geen sluiter aangbracht; de belichtingstijd werd geregeld door de dop van de lens af te nemen (dop niet meer aanwezig) en terug te plaatsen of door een losse sluiter voor het objectief te plaatsen. Afstandsinstelling variabel via verplaatsing van opnamegedeelte over geleiding. Scherpstelling controleerbaar op matglas. Verder is objectief naar boven en naar links en rechts instelbaar via schuiven. Op de grondplaat zit een waterpas. Variabel irisdiafragma, instelbaar van 8 tot 64. Op het uitschroefbaar objectief staat in sierlijke schrijfletters vermeld "Royal photo manuf. 8 x 5 Agence L Vanneck Anvers". Anvers is de Franstalige naam voor Antwerpen in België.

De camera heb ik gekocht op een fotografica beurs in Houten in maart 1995.

This is a wooden folding plate camera with interchangeable plate holder, size 12 x 18 cm. Supplied with a plate holder with ground glass, on which the image of the exposure lens is projected upside down. The ground glass holder can be rotated outward for loading of a photographic plate, so it does not have to be removed. There is no standard shutter provided; the exposure time is controlled by putting the lens cap off and on (lens cap not present) or by slipping a loose shutter on the lensfront. Variable focusing by moving the lens assembly over a rail on the ground plate. Focus can be controlled looking at the image on the ground glass. The lens assembly can also be shifted up en down and to the left and the right. There is a waterlevel provided on the groud plate. Variable iris diaphragm, aperture settings from 8 to 64. On the removable lens is stated in gracefull scriptletters "Royal photo manuf. 8 x 5 Agence L. Vanneck Anvers". Anvers is the French name for Antwerp in Belgium.

This camera was bought at a "Fotografica" fair in Houten in march 1995.
<![if !vml]>
<![endif]>      <![if !vml]>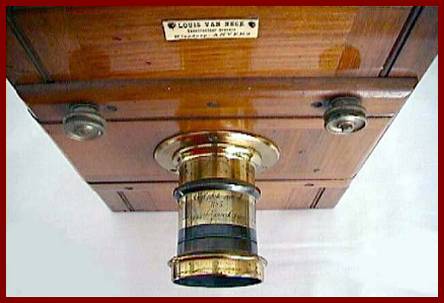 <![endif]>
<![if !vml]>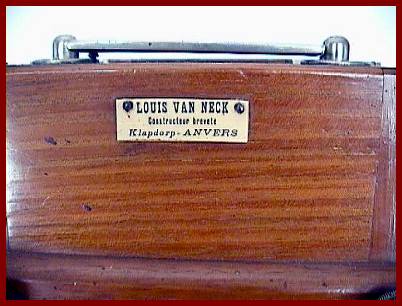 <![endif]>