Gossen Lunasix F
          <![if !vml]>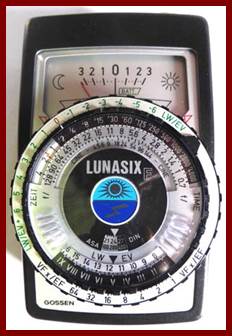 <![endif]>     
Gossen; made in Germany
ca 1981
Grote zware belichtingsmeter (195 gram) met batterijvoeding en een groot meetbereik van 1/4000 seconde tot 8 uren. Hiermee kun je zowel flitslicht als continue licht meten. Achterop zit een schroef voor nulstelling. Batterij 9 volt IEC 6 F 22. Compleet met bijbehorend tasje.


Gekregen van John van de Meer in januari 2014.

Large heavy exposure meter (195 grams)with battery power supply and a big measure range from 1/4000 sec till 8 hours.Both flash light and continuous light can be measured. At the back there is a zero adjust screw. Battery 9 volt IEC 6 F 22. Including special bag.


A gift of John van de Meer in January 2014.